Book Now
Book Direct Benefits
- Complimentary Wifi
- $20 USD Spa Credit Per Adult, Per Stay
- Late Checkout (based on availability)
-

Best Rate Guarantee

- Glass of sparkling wine upon arrival
- Chichen Itza Deluxe tour - Buy one and get one free at The Reef Coco Beach & The Reef 28
Some restrictions may apply
Book Direct Benefits
-Best Rate Guarantee
-Late check-out (Based on availability)
-Free bottle of Champagne upon arrival for reservations with a minimum 3-night stay
-Free shuttle transportation to and from the airport*

-Chichen Itza Deluxe tour - Buy one and get one free
(*With a minimum 5 night stay and only for bookings with Best Available Rate)
Book Direct Benefits
- Complimentary Wifi
- $20 USD Spa Credit Per Adult, Per Stay
- Late Checkout (based on availability)
- Best Rate Guarantee
- Glass of sparkling wine upon arrival
Book Direct Benefits
- Complimentary Wifi
- $20 USD Spa Credit Per Adult, Per Stay
- Late Checkout (based on availability)
- Best Rate Guarantee
- Glass of sparkling wine upon arrival
- Enjoy all inclusive services at our sister property when you stay with us
- Free shuttle transportation with the Best Available rate & a minimum of 5 nights
- Chichen Itza Deluxe tour - Buy one and get one free
Are you already a Reef resorts Preferred Agent? Welcome back! Log In to access your Preferred Agent Account.
especially for

Travel Agents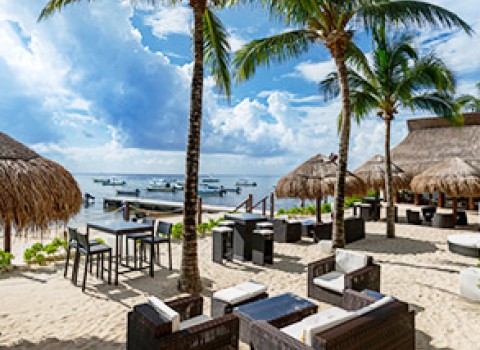 Our Preferred Agency Program
If you want more from your all-inclusive resort in Playa del Carmen, Mexico, book direct with The Reef Resorts.
Our Preferred Agency Program gives you more cash, incentives and free nights! Register today to become a Reef Resorts Travel Agent or learn more about our program by contacting us here. We look forward to doing business with you!
*12% commission for every individual reservation made
*Eight rooms is considered a group
Please contact groups@thereefresorts.com for group bookings.
Already a part of our Preferred Agency Program? Login below:
Book A Wedding
The Reef Resorts offer special comissions to travel agents for groups and wedding packages. Please contact our Wedding Coordinator for more details regarding comissions. Find out more information about weddings at each of the properties.
The Reef Resort and Spa Wedding